Published: 2010-12-16
Updated: –
Version: 1.0
Background Information
I hope you will find this article helpful and interesting to read.
I just want to mention to everyone that's reading this article, it's not any type of best practice, it's just
a sample of how it could be installed and configured in a Lab environment.
It will not be a how-to guide in depth with every small step but it will provide as much information that
you can be used as a reference.
I'm going to use Quest: MessageStats 6.8.1 (current version when the article is created)
It can be found here: http://www.quest.com/messagestats/
Don't ask me about licensing, that's a question for Quest, send a mail to: info@quest.com
Below here is a picture of the server infrastructure used in this scenario
The server AD01 is just a basic Active Directory server with Windows 2003 R2, nothing special.
The Exchange server, is using Windows 2008 R2 and with a typical installed Exchange 2010.
Domino server is based on Windows 2003 and IBM Lotus Domino version 7.0.4
Windows/Quest NME, is used as a SQL Express 2005 server in this scenario
Windows 2008 R2, is used for the Quest MessageStats application and for the reporting parts (IIS).
Configuration
We need for configure SQL 2005 Express for use of both Windows and SQL Server authentication.
This is done from the NME machine were SQL is installed with SQL Management Studio Express by
right-clicking on the server and select properties and choose "Security" and make sure the "SQL Server
and Windows Authentication mode" is selected. Check the picture below.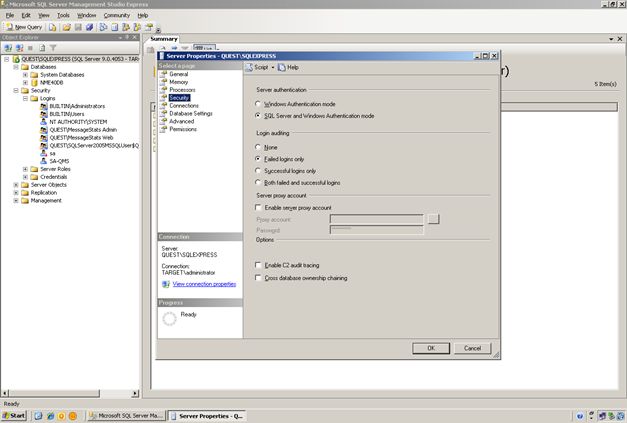 We also need to create a SQL user for this purpose; I named it SA-QMS (Server Account-Quest MessageStats)
Then it's time to start the installation of MessageStats (QMS).
Just want to mention some short prereq's that need to be in place before starting the installation.
IIS with typical installation

Verify that "Reports" virtual directory is using Windows Authentication
"ASP.NET, ASP and Server Side Includes" needs to be enabled and installed

Local administrator to perform the installation
MAPICDO needs to be installed, version 6.5.8153.0 or later
PowerShell 2.0 needs to be installed
At least; Exchange View-Only Management and Recipient Management permissions with the account
that's used for collecting data
For public folders it should also be member of; Public Folder Management group
Local administrator on every Exchange server
Read permissions on the folder which have the message tracking logs
Share the folder which includes the message tracking logs
The mailbox for the collecting account CAN'T be hidden in the GAL

It should also have AD permissions and Mailbox permissions


Add-ADPermission -id:mailboxName -User:userName -AccessRights:extendedright

Add-MailboxPermission -id:mailboxName -User:userName -AccessRights:FullAccess
Get-MailboxServer MyServer | Add-ADPermission -User:UserA -ExtendedRights Send-As

Get-MailboxServer MyServer | Add-ADPermission -User:UserA -ExtendedRights Receive-As

SQL-DMO 2005 Backward Compatibility Pack needs to be installed
Installation
Let's start the installation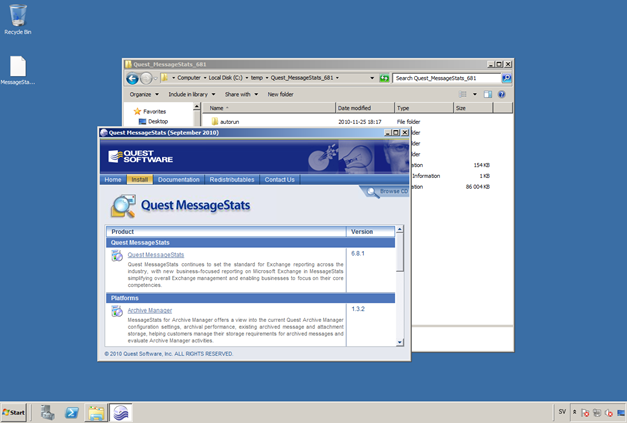 Selecting Complete installation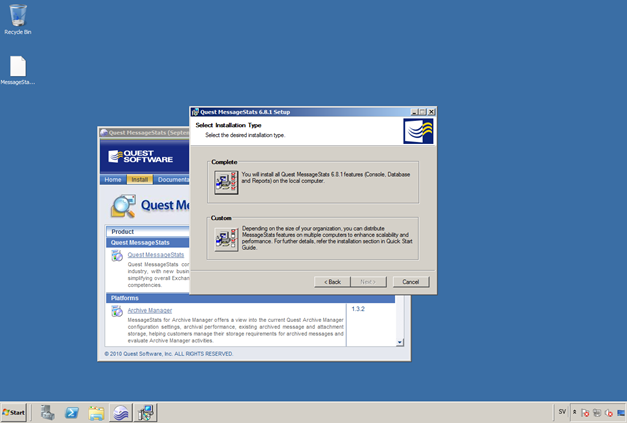 Typing in where the database should be installed; QUEST\SQLEXPRESS
Reporting and Scheduler service should be installed on; QMS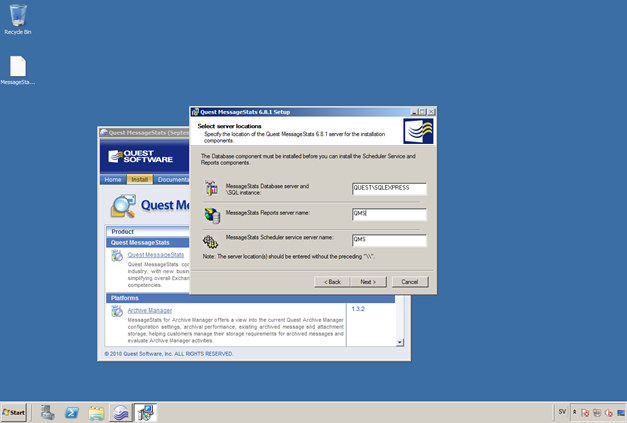 Selecting the default setting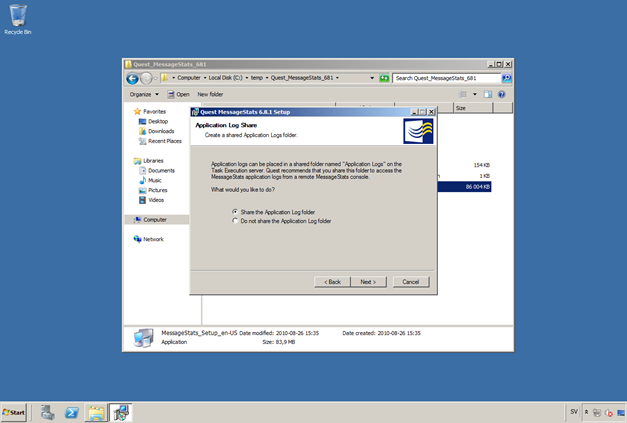 Selecting the default setting
Typing in server name and email address for the service account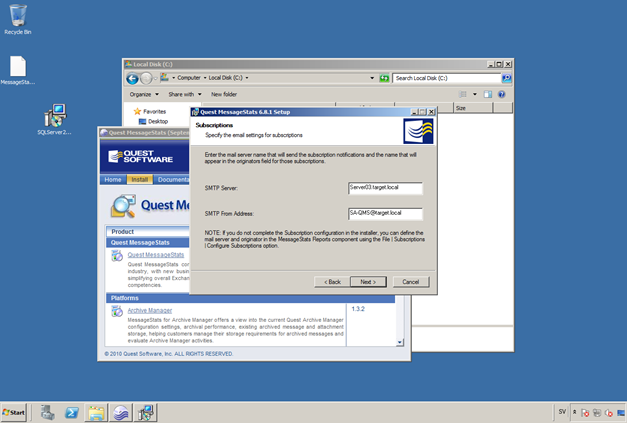 Typing in service account and password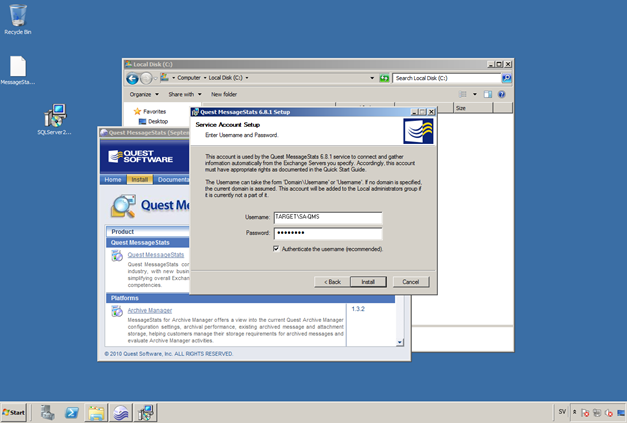 Installation is in progress..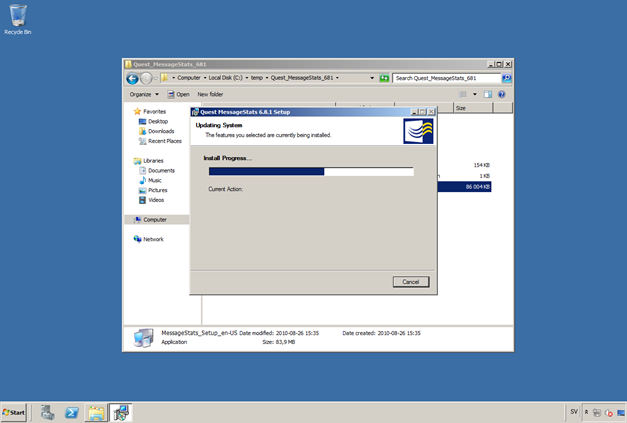 SQL Database creation..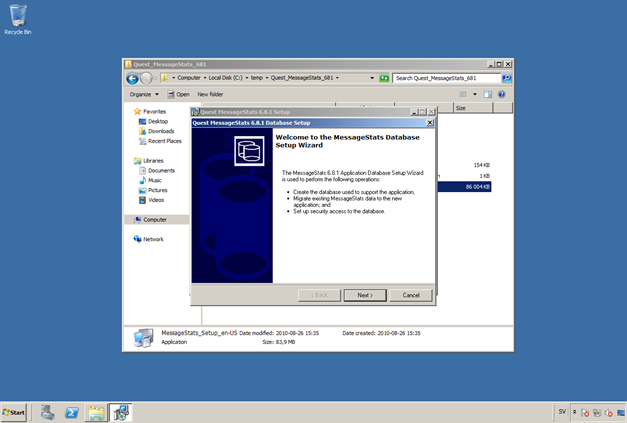 Selecting the default setting
Selecting the default setting; "Small"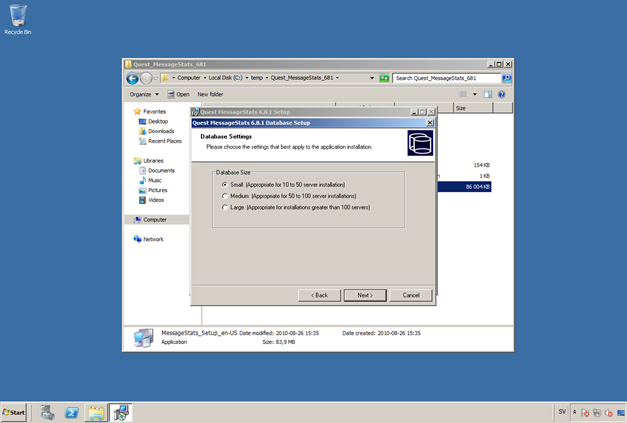 Selecting the default setting
The creation is completed successfully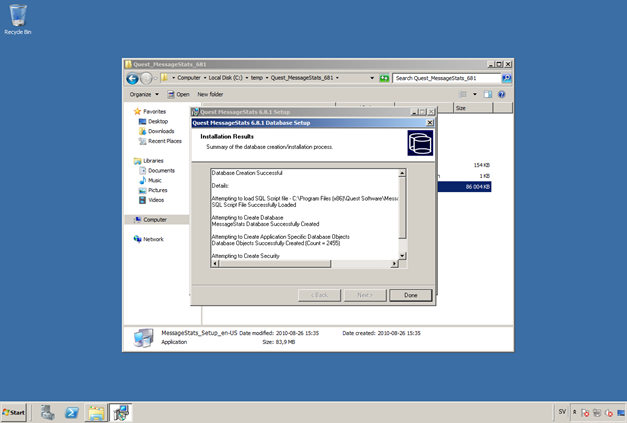 After the installation is done, install the license by starting Quest MessageStats Console and right click the servername
then select License information and update the license.
Then it's time to configure QMS to use SQL Server authentication instead of Windows Authentication, since there
seems to be issues related to the combination of SQL Express and Windows Authentication, that's why I want to use
SQL Authentication instead of Windows.
Select properties on the server name and Database tab, on the Connection tab change from Windows NT Integrated security
to SQL authentication and type in the appropriate username and password, have it successfully verified.
For connecting QMS into the Exchange Organization, right click Exchange Organization and choose "Connect".
In my lab I'm using Exchange 2010, typing in the server name (CAS) and the account with the necessary permissions.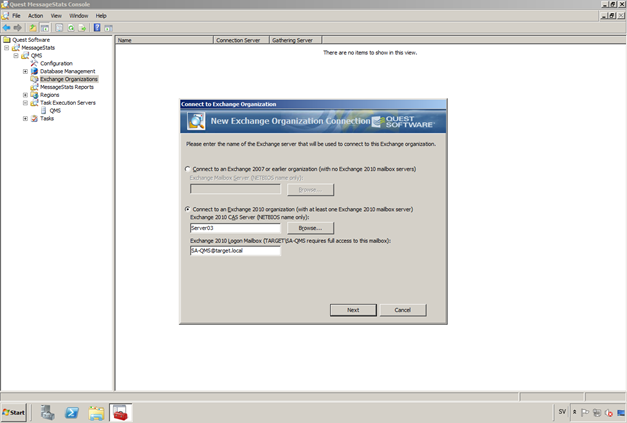 The Exchange Organization is now connected.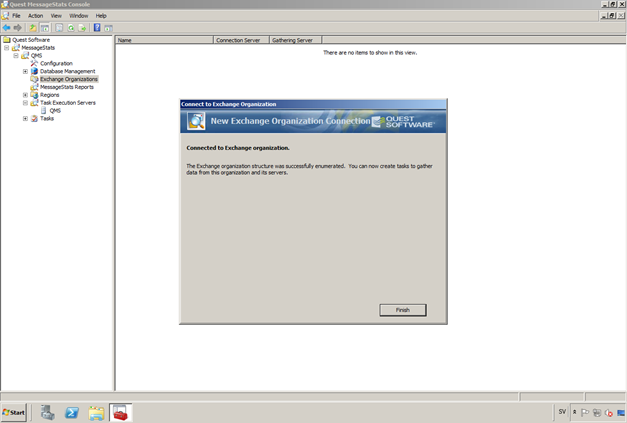 On the server, right click and select "Properties" and "Tracking Logs", browse for the share with the message tracking logs.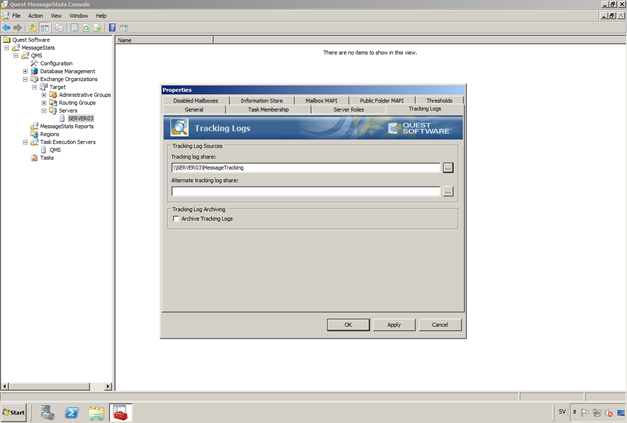 Right click the "Exchange Organization" and select "Create Task".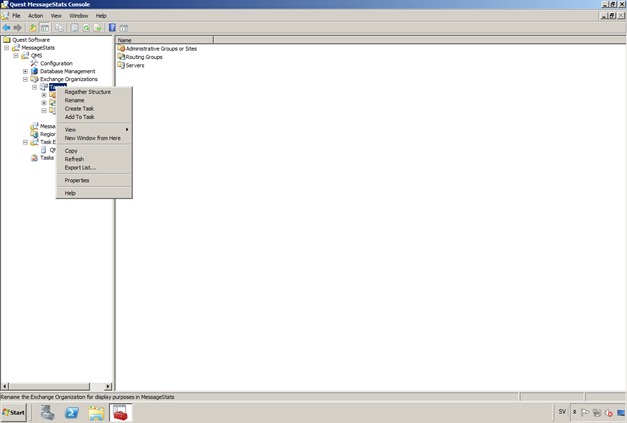 Select task "Complete Exchange Gathering" and give it a friendly name.
Select "Yesterday" for the Tracking Logs.
In my lab I want to run this task every night at 1 AM (01.00).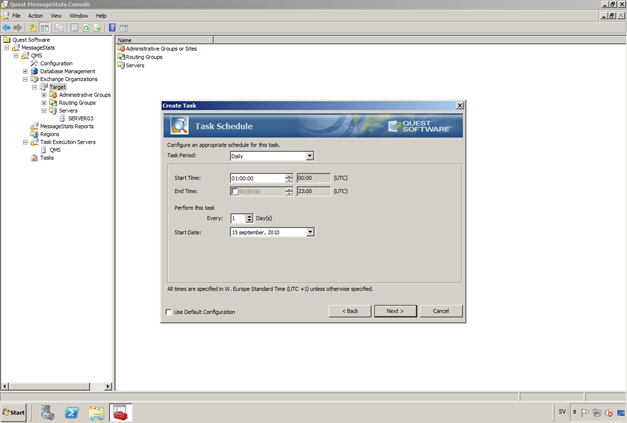 The wizard is completed.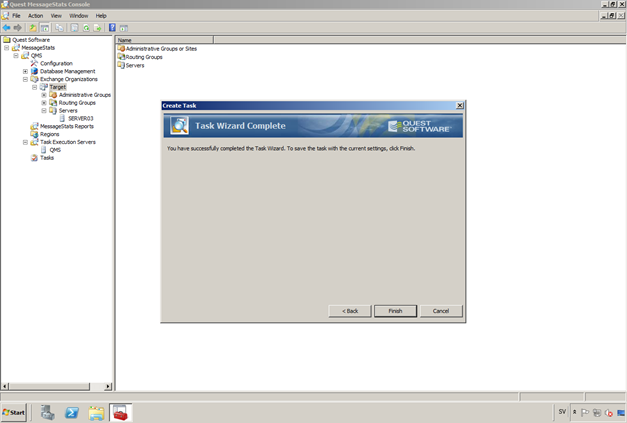 The Gathering job is currently running..
To complete this post, I just want to show a very basic example of what QMS can provide, this is just a sample.
Of course you can build your own reports, all type of details can be provided.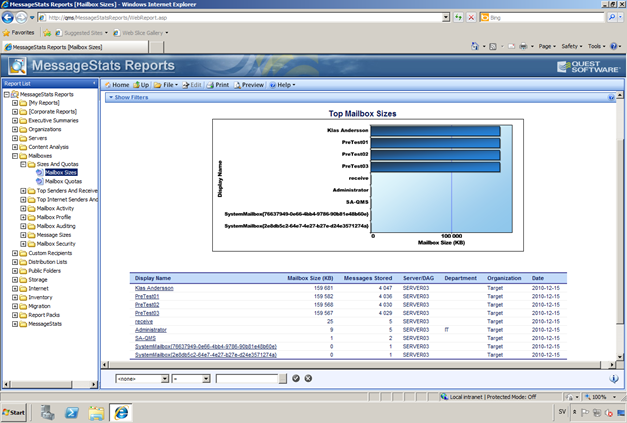 Hope this article gave you something
Cheers J