Published: 2010-10-09
Updated: –
Version: 1.0
Part: 1 (of 2)

Background Information
I hope a lot of you find this post/article interesting and continue to read it.
It will not be a how-to guide in depth with every small step but it will provide as much information that you can be used as a reference.
I'm going to use Quest: Notes Migrator for Exchange 4.3
It can be found here: http://www.quest.com/notes-migrator-for-exchange/
Don't ask me about licensing, that's a question for Quest, send a mail to: license@quest.com
Below here is a picture of the server infrastructure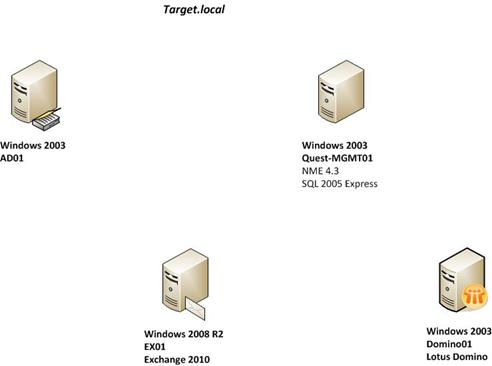 The server AD01 is just a basic Active Directory server with Windows 2003, nothing special.
EX01, is using Windows 2008 R2 and with a typical installed Exchange 2010.
Domino01, is based on Windows 2003 and IBM Lotus Domino version 7.0.4
Quest-MGMT01, is used as a migration server with Quest tools.
Just some short information about NME;

Notes Migrator for Exchange (NME) can migrate Domino version 4.6.* and newer
Migration Throughput accordingly to the documentation approximately migration throughput will be around 1-5GB/hour
with 8-12 concurrent threads.
Encrypted mail can only be migrated using Self-Service Desktop Migrator or using special scripts etc.

If Symantec Enterprise Vault is used on the Domino side there are some workarounds, these are described in documentation.
Configuring permissions on Domino Server
NME needs an account that has Manager rights to both the directory and to the mailboxes that should be migrated.
This is set in Domino Administrator by going to Administration and select Full Access Administration.
For setting up the permissions on the directory, go to Files and select the directory (names.nsf) and right click and choose Access Control and Manage.
Press Add and select the account for migration, give it Manager rights.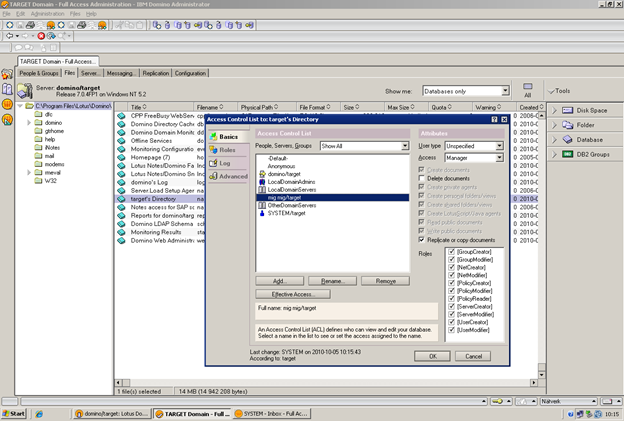 When that's done, go into Notes client and choose File, Database and Access Control.
Press Add and select the account that going to be used for the migration, give it Manager rights.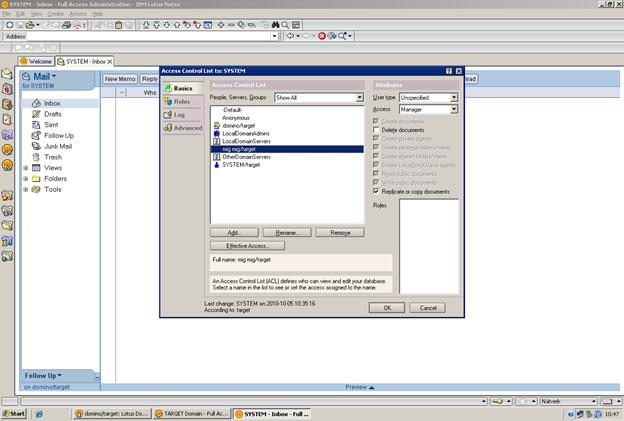 Configuring permissions on Exchange Server
On the "Windows side" we will need 2 accounts:
Exchange Org Admin and Domain Administrators
Domain user with mailbox and that have the "Receive As" rights on all mailbox databases.
In my case I named them: mig and receive
We need to configure so that the "mig" account have the necessary permissions that I wrote above.
This is the command that should be used:
[PS] C:\Windows\system32>get-mailboxdatabase | add-adpermission -user receive -extendedrights Receive-As
Depending on your environment, you may need to run this command to enable the PowerShell layer using remote PowerShell:
[PS] C:\Windows\system32> set-executionpolicy unrestricted
Remote management must be enabled on the Exchange server.
This is done by running the command: "winrm quickconfig" and pressing Yes on the question.

Microsoft Windows [Version 6.1.7600]

Copyright (c) 2009 Microsoft Corporation. All rights reserved.

C:\Users\Administrator>winrm quickconfig

WinRM already is set up to receive requests on this machine.

WinRM is not set up to allow remote access to this machine for

management. The following changes must be made:

Create a WinRM listener on HTTP://* to accept WS-Man requests to

any IP on this machine.

Enable the WinRM firewall exception.

Make these changes [y/n]? y

WinRM has been updated for remote management.

Created a WinRM listener on HTTP://* to accept WS-Man requests

to any IP on this machine.

WinRM firewall exception enabled.

C:\Users\Administrator>_

If migrating to Exchange 2010: This AD account must be configured with remote PowerShell enabled.
Issue this command through the Exchange Shell:
[PS] C:\Windows\system32> Set-User <alias> -remotepowershellenabled $true
Configure Notes Client and Outlook
Install Notes client in single user mode, get the id file from the Domino administrator.
The permissions should already be configured at this time.
I'm working with Notes 7.04 and set it up with my "mig mig" account that now has Manager rights in both the directory and on all mailboxes.
On my client it looks like this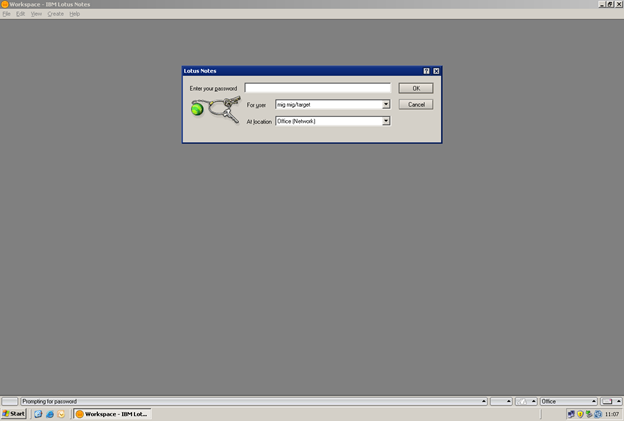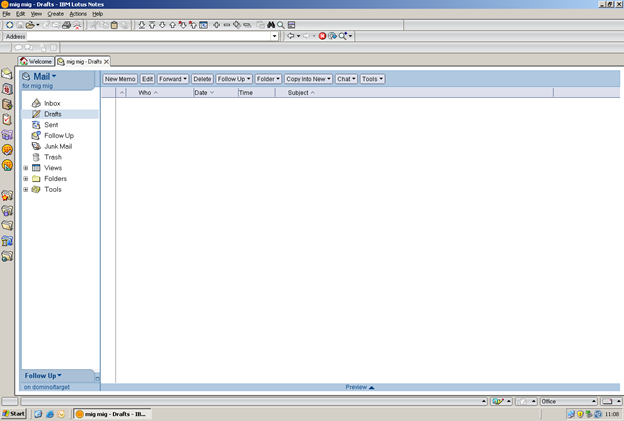 For configuring Outlook profile, just don't use offline cache mode.
In here I use my "receive" account, it looks like this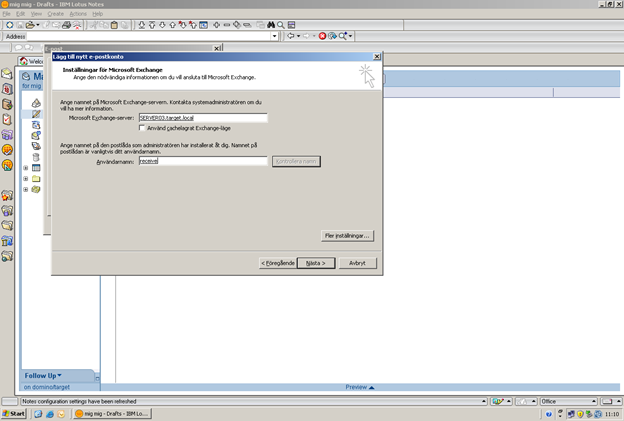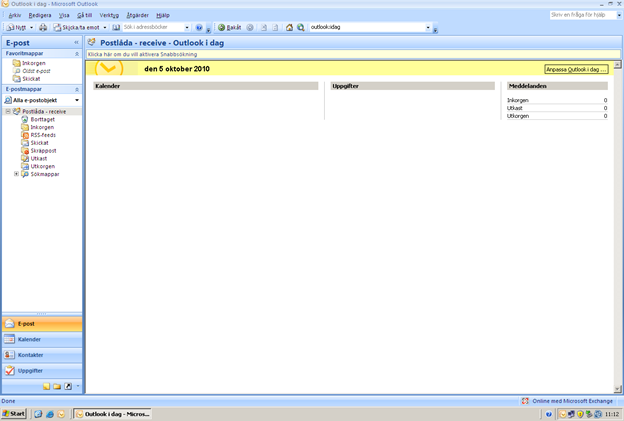 This was all for Part 1
In Part 2, I'm going to configure NME and continue the work
Cheers 🙂
Ps. This tool should be used by a PSO consultant (Quest).