If you have missed the news on my twitter, I can tell you that the last 6 months I've been busy with writing a book called "Microsoft Exchange 2013 PowerShell Cookbook: second edition" for Packt Publishing.
That's also why the blog not have been updated that much lately, now it's time to startup with the activities for the online community work again since the book more or less is completed. Just doing the final updates of the chapters. I want to thank both Anderson Patricio [MVP] and Marcelo Vighi [MVP] for doing a great job with the review.
I also want to send a special thank you to Magnus Björk [MVP] for helping me out when bugs were found.
It have been a great experience doing this project, both exciting and exhausting in the same time because of high tempo and tight time schedules. But I can recommend everyone that thinking of doing this kind of job, DO IT!
You might wonder when it will be released? mid June..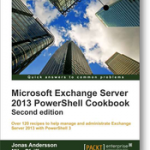 More info about the book can be found here:
http://www.packtpub.com/microsoft-exchange-server-2013-powershell-2e-cookbook/book
http://www.amazon.com/Microsoft-Exchange-PowerShell-Cookbook-ebook/dp/B00BP47WHE/ref=sr_1_1?s=digital-text&ie=UTF8&qid=1364252267&sr=1-1
And some information about me:
http://www.packtpub.com/authors/profiles/jonas-andersson