Last week I posted how to restore using EMC, this time it's up to proof that DPM 2012 (System Center Data Protection Manager) is a software to count on. So here's a step-by-step guide how DPM 2012 can be configured for backing/protecting Exchange 2010.
I'm using a Windows 2008 R2 for the DPM server together with a 50 GB disk for the backup data (I have small Exchange databases).
Start "System Center 2012 DPM Administrator Console".
Prerequisites
Note: Make sure to not use circular logging, or else the protection/backups won't work.
Step 1. Go to the "Monitoring" section and have a look, it looks pretty much the same as DPM 2010 did.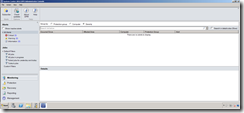 Step 2. Go to "Management" section and and take a look at the disks, I've added my 50GB disk by pressing the "Disks" and then press the "Add" button and selecting the disk. After that it should show up just like the picture below.
Step 3. Press "Agents" in the Management section, then press the "Install" button and you will have a nice wizard helping you. Since my Exchange server is in the same domain as the DPM server and no firewalls between, I did select "Install agents". Press Next.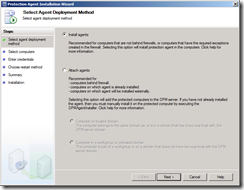 Step 4. Select the server you want to backup/protect and press "Add" button. Press Next.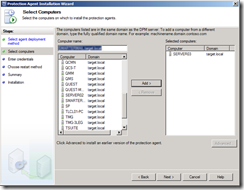 Step 5. Make sure to insert credentials that have necessary permissions for being allowed to install the agent (local administrator rights).
Step 6. Since I want to restart the server myself and have the full control, I did select "No. I will restart the selected computers later." Press Next.
Installation progress will be shown.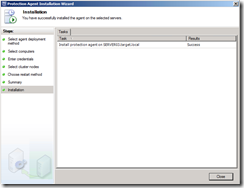 When the agent installation is completed, it should show the status in "Management" section and "Agents".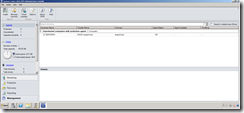 Now when the prerequisites are in place, we can proceed with the protection groups creation.
Protect/Backup Exchange 2010
Step 1. Go to "Protection" section and press "New" in the upper left corner and a wizard will start.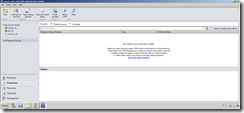 Step 2. Press Next.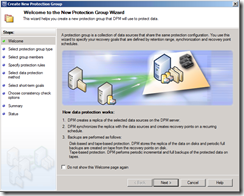 Step 3. Select Servers. Press Next.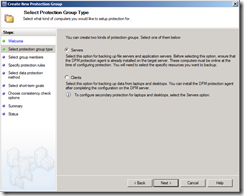 Step 4. Select the server/DAG and the databases you want to protect. Press Next.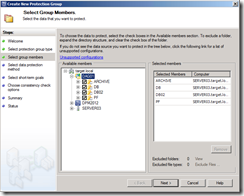 Step 5. Give the Protection Group a friendly name. Press Next.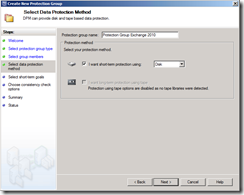 Step 6. I want DPM to verify the data integrity, put a checkbox in the option "Run Eseutil to check data integrity" and select "Run for both database and log files (maybe slow if databases are large)". Press Next.
Note: Make sure to copy the "Ese.dll" and "Eseutil.exe" files from \bin folder from Exchange server into the DPM server folder "\DPM\bin\". Or else this won't be possible and an error message like below will show up.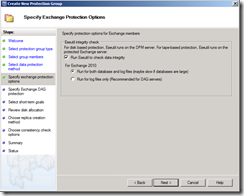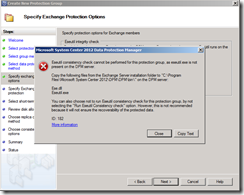 Step 7. The selected databases shows up, I want to have full copy of them so I'm going with the default setting. Press Next.
Step 8. Specify how long the backup data should be retained and how often it should do incremental/synchronization backup, also specify when you want the full backups to run. Press Next.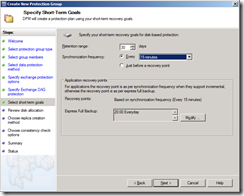 Step 9. A summary is showed of data size, modifications can be done. I'll go for the default settings. Press Next.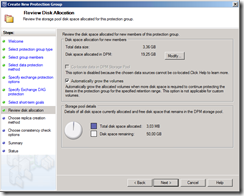 Step 10. I want DPM to take a full replica right now. Press Next.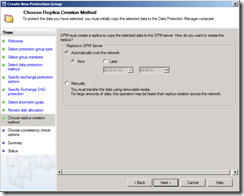 Step 11. I've selected both options and wants my consistency check to run at 12:00 with a maximum duration of 168 hours (1 week). Press Next.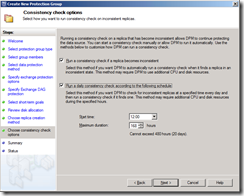 Step 12. Summary of settings is shown. Press "Create Group".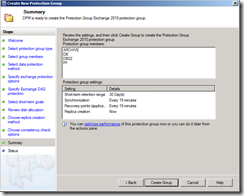 After a while, the status should be Successful. Press Close button.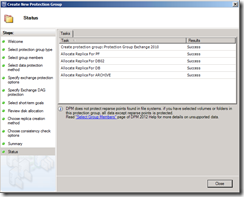 When the wizard is completed, the job for taking full replica starts, below is some example pictures.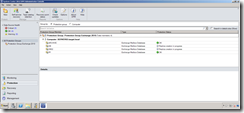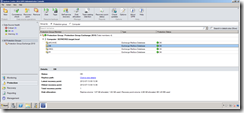 Every 15min my setup is doing an incremental backup, in the "Protection" section it shows when it's running.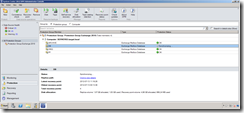 Have a look in the reports to see how things are going, go to "Reporting" section and select a report you are interest in, I have selected "Recovery Point Status". A small example of it is shown below.
Those reports can be scheduled and emailed very easy.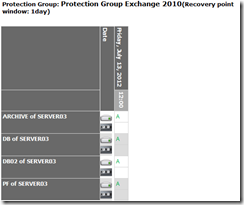 Next blog post will be how to restore / recover data using DPM 2012 for Exchange 2010.
Thanks for reading and don't forget to leave a comment