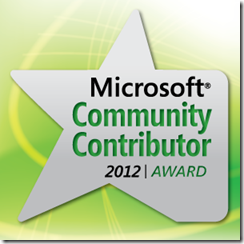 Late last Friday I did get a mail from Microsoft telling me that they have awarded/reawarded.
It's great to see that my sharing with the community is so appreciated, both in the Forum, twitter and also on the blog.
Dear Jonas,
Congratulations! We're pleased to inform you that your contributions to Microsoft online technical communities have been recognized with the Microsoft Community Contributor Award.
The Microsoft Community Contributor Award is reserved for participants who have made notable contributions in Microsoft online community forums such as TechNet, MSDN and Answers. The value of these resources is greatly enhanced by participants like you, who voluntarily contribute your time and energy to improve the online community experience for others.
Thanks to everyone in the community for reading my contents
Additional information about the Microsoft Community Contributor Award Program can be found at http://www.microsoftcommunitycontributor.com